Description
About the Book
Despite its distinct colonial legacy and imperial overtones, the Indian Administrative Service has encompassed the country's vast expanse within its administrative structure, responding to the needs of the young republic. Often flawed and inadequate, the IAS as an institution, however, has integrated India with its fabled steel frame offering cohesion and order to a land known for chaos and a million mutinies. Directly, descending from the British masters' Indian Civil Service, the IAS, the country's highest administrative ties, has evolved over the decades being alive to the impulses and aspirations of the nation. At times when the political leadership has failed and floundered, the executive has steadfastly navigated the boat through choppy patches.
Ashok Pandey exemplifies the evolution of the elite administrative cadre in all its glory and occasional dark craters as well. Coming from a family which had actively participated in the freedom struggle in Bihar, he served in the districts of Assam and Meghalaya as a young IAS officer at the outset of his career. He went on to handle crucial responsibilities at the Centre and in Bihar later. His recollection of this long journey reads like chapters of India's political history as he records in his memoir major events in their nuances. The book focuses on the centrality of the steel frame, its crucial role in the life of India and at the same time, captures its pitfalls and entrenched biases as the author himself experienced them towards the end of his career.
Full of  insights into the changing face of India, and many vignettes of life in the districts, state capitals and around the seat of power in Delhi. Through this book Ashok Pandey takes the reader on the journey he undertook, from an informal schooling in a small village in Bihar to a much coveted career as an IAS officer and then his innings in the Lok Sabha Secretariat where he served for several years. – Vikas Swarup, Author of Q & A and Six Suspects
From Inside the Steel Frame: Memoir of an Administrator will be of great interest and use to the IAS probationers and younger officials serving their terms in the far-flung areas of the country. In Ashok Pandey's memoir, senior officers will come across experiences as if from their own life. The core message is that hard work and fairness always pay in the long run. Pandey learnt an important lesson as a young officer in a remote district in the North-East which he remembered throughout his career: It is important for an administrator to be able to guide, motivate and give credit to his colleagues and subordinates, for it is not possible for him to carry administrative burdens on his shoulders alone, however, capable he might be. A distinguished administrator, he bears neither rancour nor ill-will to those who were not favourably disposed towards him, even when the richly-deserved and coveted office of the Lok Sabha Secretary-General eluded him. For him, every assignment was a lesson for the future. –  T. N. Chaturvedi, former Governor, Karnataka
In his autobiography Ashok Pandey looks back on his career, one of the richest and most varied, in the Indian Administrative Service. This lucidly-written compilation of his experience, events and anecdotes from his long and fascinating innings, is a significant addition to the studies of both politics and administration in this country. In a simple and elegant style, he has meticulously described how the government functions at different levels. This makes the book a creative lesson in public administration at work. It will be of great interest in particular to students of development economics, political science and public administration, to hundreds of thousands of candidates aspiring to join the Civil Service and to the general reader. –   Muchkund Dubey, former Foreign Secretary, Government of India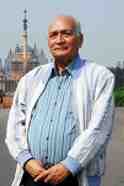 About the Author
From a village school without a building, Ashok Pandey went on to graduate from Rajendra College, Chapra, Bihar and took a master's from the University of Bihar. He holds a PhD from Magadh University. Later he did a post-graduate course in development administration at the University of Manchester, UK and another programme at Henley Management College, University of Reading. After a stint as a college lecturer, he joined the Indian Administrative Service and served as a young officer in Assam and Meghalaya. He later moved over to the Government of India and held key positions in about half a dozen ministries. After stints in Bihar and Food Corporation of India, he joined the Parliament Secretariat and retired from there.
Media Reviews
Links