Description
About the Book
Working as a wedding planner in upmarket Mumbai, Shaista one day discovers that tying knots is neither the beginning nor the culmination of a relationship. Human relationships often challenge or break free from conventions and social institutions. Krish, a young gay man moving into an apartment with his partner Kabir, and Mrs Banerjee, announcing a new man in her life soon after her daughter's wedding, only extend the boundary of the bold new world. Pared off by Shaista's keen eyes, urban life has rarely been chronicled in so many shades and nuances.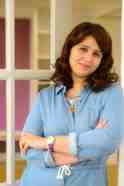 About the Author
Starting her career as a copywriter at an advertising agency in Mumbai, Tehzeeb Doctor soon took a year off to volunteer as a teacher at Sadhna School for the mentally challenged. Later she joined the Seventeen India magazine and went on to become its Managing Editor. Looking for a new challenge Doctor moved to Singapore and worked as an editor at Ink Publishing there. Back in Mumbai, she has started Liberarte Central, an academy for the senior citizens to pursue their learning interests. Tied in Knots is her debut novel.
Jug Suraiya on the book: Tied in Knots is an insightful exploration of the often tangled web of human relationships. Tehzeeb Doctor writes with verve to give us a very readable narrative.
Media Reviews
Links